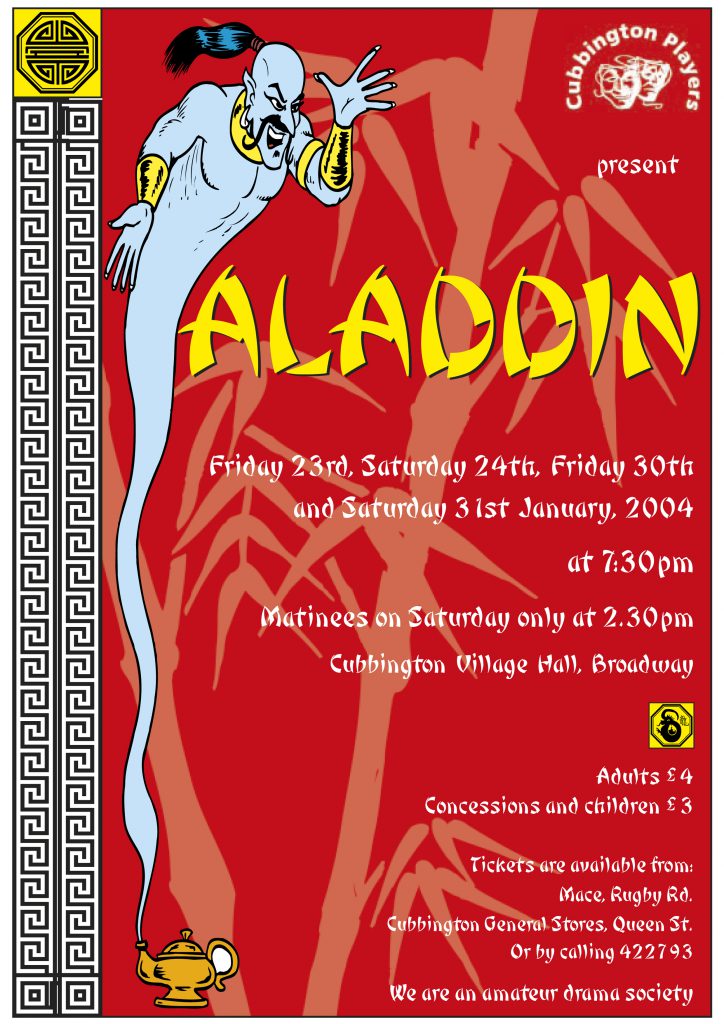 January 2004
The classic pantomime.
Cast
Aladdin Fiona Broadhurst
Widow Twankey Joseph Hughes
Princess Lotus-Blossom Marie Wells
Emperor Barry West
Herald Brenda West
Dishee Washee Christine Ward
Genie of the Bottle Victoria Perris
Abanazer Mark Frampton
Hi-Pong Paul West
Vellee-Smellee Ruth West
Dr. Rick Shaw Mike Crawshaw
Ty-Ping Ruth Bishop
Genie of the Lamp Thomas Gerrard
Dancer/Dragon Kate Freer
Swampies Sophie Poulton, Charlotte Smith, Sophie Stullery
Prologue Chris Squire
Customer John Staton
Crew
Producers Olly Hogben & Cath Staton
Stage Manager Ian Squire
Set Design Teresa Coles Mcgee
Set Construction Members of the Group
Lighting Rebecca Robertshaw
Sound Christine Pearson
Properties Christine Sutton
Prompt Hazel Galvin
Costumes & Make-up Brenda West & Cath Staton
Song Arrangements Olly Hogben
Choreographers Ruth Bishop & Sarah Lawes
Pianist Jenny Smith
Poster/Flyer Designs Teresa Coles Mcgee
Publicity Joseph Hughes
Tickets Guy Bishop
Front of House/Kitchen Members of the Group
Reviews
The Leamington Observer:
Aladdin's Lamp Brightens January
The Cubbington Players bring a bit of belated Christmas magic to the village hall in the pantomime Aladdin.
Not performed by the group for about 13 years, the script is much updated with topical gags, songs and tricks which are well received by the audience.
Worth particular mention is Mike Crawshaw as Dr Rick-Shaw, the detective whose failed attempts to catch the evil baddie Abanazer, played by Mark Frampton, are hilarious.
Ruth Bishop as Ty-Ping is also very good, as is Joseph Hughes as Dame Widow Twankey.
A good balance of songs and acting keeps the play moving along at a nice pace making the evening spent at Widow Twankey's Swankey Pantry a most welcome break from the January cold outside.
The Leamington Courier:
Missing the X Factor
If children's shouts and cheers are an accurate measure of success, then this version of panto favourite Aladdin must have broken box office records.
Even so, I couldn't help but feel a little disappointed with Cubbington Players' latest show.
It wasn't because I was told there may not be a seat for me as the hall was so full; it wasn't the fact that the play was two-and-a-half hours long (in my opinion far too lengthy for younger children); and it wasn't even because I didn't get a lollipop.
Perhaps my expectations were too high considering the standard of previous performances – but Aladdin just missed that  x-factor.
Something was missing, that magical something all pantomimes need in order to make them work.
I hate to say it because I've always been impressed with the professionalism of this group and have always had a soft spot for them – but no magic lamp could save this show,
It wasn't a complete failure, but neither were there any obvious stars this time round.
Mark Frampton and Ruth West as Abanazer and Vellee-Smellee redeemed the show somewhat, and there was a good attempt at Christina Aguilera's  Genie in a Bottle by Victoria Perris. Fiona Broadhurst and Joseph Hughes were entertaining and the whole thing was well written.
The youngsters had a whale of a time, and that, I suppose, is what it's all about.
So Cubbington Players – I still have faith in you. But next time I want a lollipop.   6/10.