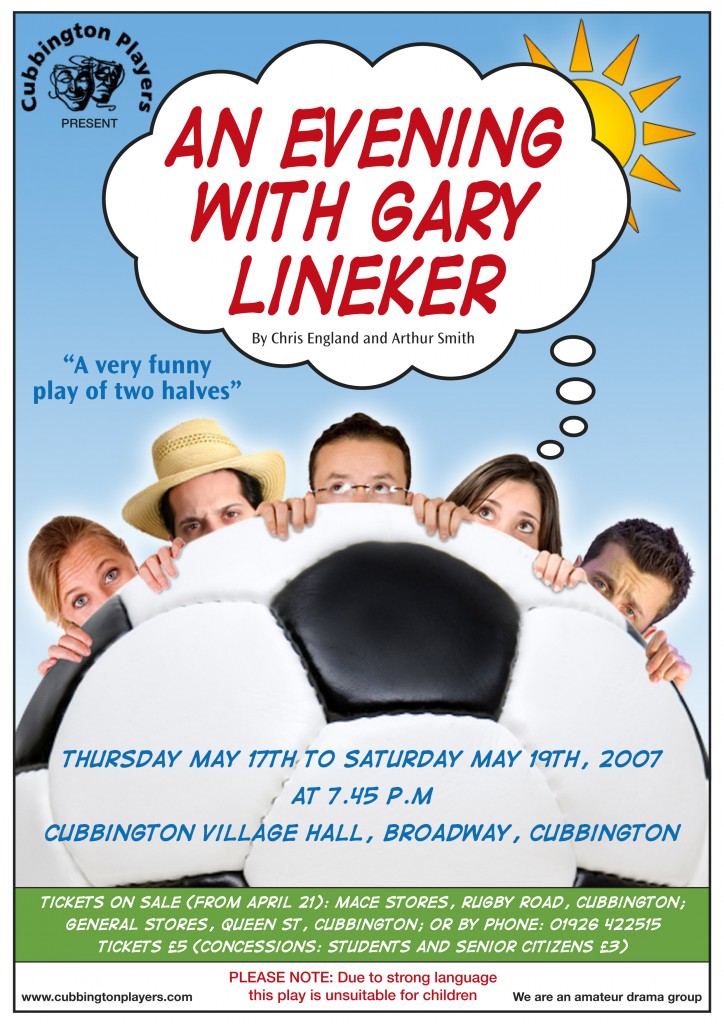 by Chris England and Arthur Smith
May 2007
The action takes place in a hotel in Majorca, on July 4th 1990, the day that England play West Germany in the semi-final of the World Cup.
Bill and Monica have come for a holiday to Majorca to try to save their marriage. Bill is hiding behind his obsession with football to avoid thinking about their problems. Monica, for her part, tries to escape reality by fantasising of having an affair with Gary Lineker. To make matters worse, Bill's nerdy fiend Ian has come on holiday with them. Ian has attached himself to "the lovely Birgitta", a German holiday rep – but she has designs of her own. And into this mix arrives Dan, best-selling travel writer and Bill's meal ticket.
Cast
Monica Hazel Blenkinsop
Bill Dan Hawkins
Ian Paul West
Birgitta Teresa Coles McGee
Dan James Suther
Crew
Producers Barry West and Becky Hunt
Stage Manager Christine Sutton
Set Design Jim Melville
Lighting Ian Squire
Sound Chris Pearson
Props Brenda West
Prompt Chris Squire
Set Construction Jim Melville, Christopher Sutton, Christine Sutton, Joseph Hughes, Paul West, James Suther, Hazel Blenkinsop, Teresa Coles McGee
House Manager Ruth Bishop
Front of House & Kitchen Group members and friends of Cubbington Players
Publicity/Tickets Barry West
Poster and Programme Design Teresa Coles McGee
Review
From the Leamington Courier:
Football and Flirting Make Great Comedy
The Cubbington Players delivered a highly enjoyable performance of Chris England and Arthur Smith's comedy An Evening With Gary Lineker.
The play is set in a Spanish holiday resort on the day that England lost on penalties to West Germany in the 1990 World Cup semi-final.
It tells the story of Hazel Blenkinsop's Monica, and Bill, played by Dan Hawkins, who are not facing up to their marital problems.
Bill spends his time obsessively following the football, while Monica fantasises about having an affair with Gary Lineker, the "Queen Mother of football".
To add to their problems, Bill's annoying friend Ian, played by Paul West, is in tow and is scheming against him and blackmailing Monica over her affair with Dan the boorish writer, played by James Suther. Also in the mix is German tour-rep Birgitta, played by Teresa Coles McGee who is lusted after by both Ian and Dan.
The cast were very well chosen and gave a strong performance. Blenkinsop and Hawkins performed well and you could believe that they were a married couple with real problems.
Coles McGee was very good as the grammatically obsessed German. Her accent was very good ad she acted with humour and poise, without falling into the trap of crude caricature.
Suther was very good too, being loud and obnoxious, but my favourite performance was from Paul West. He delivered the role of Ian with the right amounts of sliminess and gormlessnss, which combined for a fine comic performance.
There were, though, one or two slips by the actors, but they did not significantly harm my enjoyment of the piece.
The set was well designed and had an authentic air – it really did fell like a modestly priced Spanish hotel room.
The play itself was well written with good characters, dramatic tension and some great gags, such as: "Scotland, great on paper…terrible on grass".
Overall, the Cubbington Players should feel proud of themselves for providing such an enjoyable night of drama and comedy.
8/10