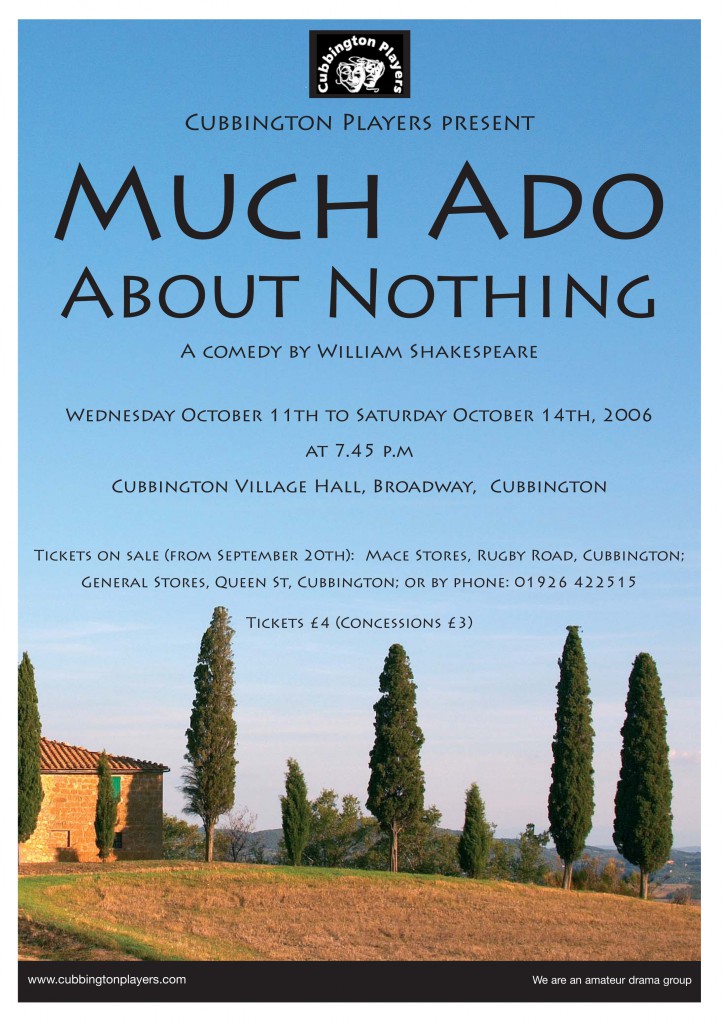 by William Shakespeare
October 2006
As in many of Shakespeare's plays, Much Ado About Nothing is a play about love. Most particularly the love between two couples: Hero and Claudio and Beatrice and Benedick.
Hero and Claudio are devoted to each other until they fall victim to a malicious plot designed to part them. Beatrice and Benedick have forever been locked in a lively war of words, until their friends decide they are 'made for each other' and hatch a plan to unite them.
There is deceit and many complications along the way, and trust is severely tested. But with the local comic constabulary to lend a helping hand, and the goodwill of family and friends, there is sure to be a happy ending. Isn't there?
Cast
Strolling Player Andrew Kneeshaw
Don Pedro Mark Frampton
Don John Peter Pawson
Claudio Dan Hawkins
Benedick Phil Kohler
Leonato Barry West
Antonio Joseph Hughes
Hero Becky Hunt
Beatrice Ruth Staton
Borachio Huw Williams
Conrade Paul West
Margaret Sam Jones
Ursula Teresa Coles-McGee
Dogberry John Staton
Verges Terry Clark
Friar Francis Paul West
Sexton Mark Frampton
Messenger Terry Clark
Watchman 1 Peter Pawson
Watchman 2 Ken Beer
Crew
Producer Cath Staton
Stage Manager Ian Squire
Set Design Backstage Team
Lighting Jim Johnson & Ian Squire
Sound Ann Johnson
Props Brenda West
Prompt Chris Squire
Set Construction Christopher Sutton, Christine Sutton, Ian Squire, Jim Melville, Joseph Hughes, Paul West, Huw Williams and other members
Front of House & Kitchen Hazel Blenkinsop & Members
Publicity/Tickets Barry West
Poster and Programme Design Teresa Coles McGee
Costumes Ann Johnson, Brenda West, Carousel
Review
From the Leamington Courier:
Pop Songs Blended With Bard's Love Story
As one scene ends, a man with the guitar comes on and sings All You Need Is Love.
The simple lyrics were aptly chosen for Shakespeare's love comedy Much Ado About Nothing, performed by the Cubbington Players.
A delicious comedy feast, this sumptuous offering left a wonderful aftertaste. With a script dripping with wit and humour, the company managed the production wonderfully.
The play's sharper characters, Ruth Bishop and Phil Kohler played the parts of Beatrice and Benedick to perfection. Mr Kohler especially shone. He showed not only Benedick's witty and funny side, but switched from vulnerable to strong without hesitation.
Playing Leonato and Antonio, Barry West and Joseph Hughes delivered lines with an ease and grace that reflected their social position in the play.
Against a backdrop of trees and a fountain, the set captured the hot Italian town of Messina well, and was also used for the actors to hide in, much to the audience's amusement. A backdrop of blue with a sprinkle of stars illuminated the stage beautifully for the night scenes.
Breaking up the old-fashioned language and making the play more interesting to adults and children was the strolling player, played by Andrew Kneeshaw, who with his guitar and mix of Boyzone and Beatles songs made the production much ado about something. 9/10
Misc
A video and gallery can be viewed here