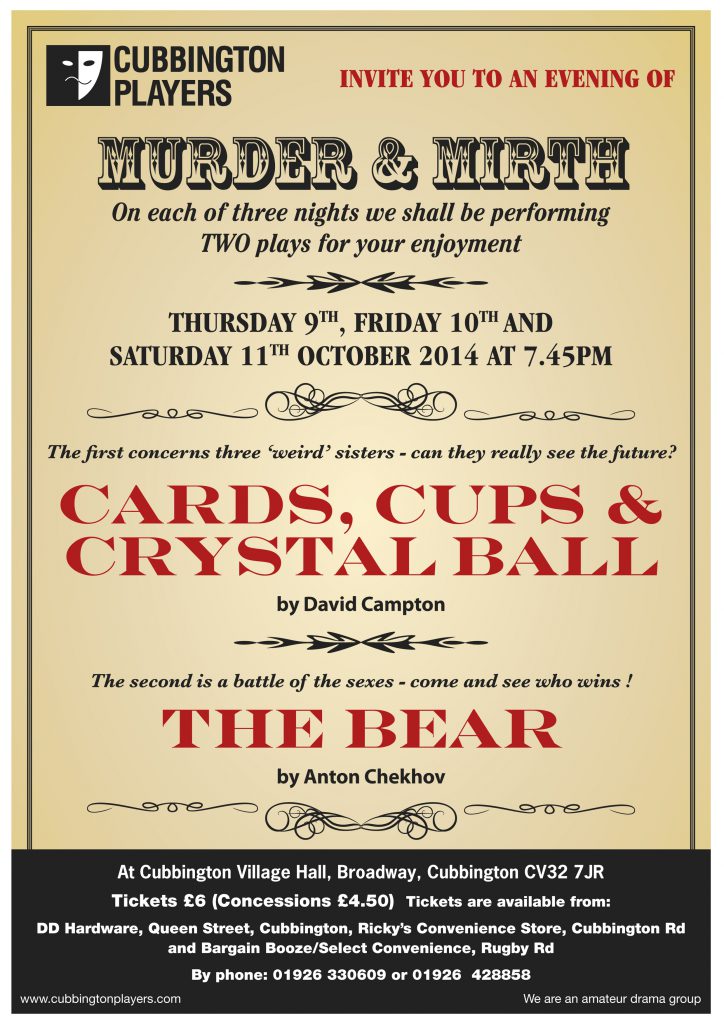 October 2014
Cards, Cups & Crystal Ball
by David Campton
The action takes place in the first floor drawing room of Flora, Dora and Nora – the Weerd sisters. It is the beginning of the last century and the sisters are struggling to make ends meet with their dubious fortune-telling; struggling even to pay Jessie their one and only servant. But who's luck is about to change when they are visited by the imperious Lady M?
Flora Sam Kneeshaw
Dora Hannah Fordham
Nora Teresa Coles-McGee
Jessie Kathy Deeth
Lady M Chris Squire
The Bear
by Anton Chekhov
It is the beginning of the last century. Madame Popov has been widowed for seven months and is still in mourning despite her servant Luka's advice to restore herself to society. However, into her enforced isolation comes Grigory Smirnov a local landowner demanding, in no uncertain terms, payment for a debt incurred by her late husband. Outrageous altercations and insults follow in the battle of the sexes which ensues. Laugh along with this absurd and very funny Russian farce the outcome of which is not only surprising but heart- warming too.
Luka (Madame Popov's manservant) Joseph Hughes
Madame Popov (A widow) Ruth Hawkins
Grigory Stepanitch Smirnov (An irate landowner) Tim Hurrell
Retainers Barry West, Roy Sager
Crew
Producer Cath Staton
Prompt Brenda West
Stage Manager Jill Bingham
Sound Andrew Kneeshaw
Lighting Ian Squire
Costume Members of the cast and company
Props Christine Sutton, Christopher Sutton, Jill Bingham
Set construction Christopher Sutton, Christine Sutton, Ian Squire, Jim Melville
Front of House Tony and Ann O'Hagan, Members and Friends of Cubbington Players
Publicity and Tickets Christine Pearson, Christine Sutton and Sam Kneeshaw
Poster and Programme Teresa Coles McGee