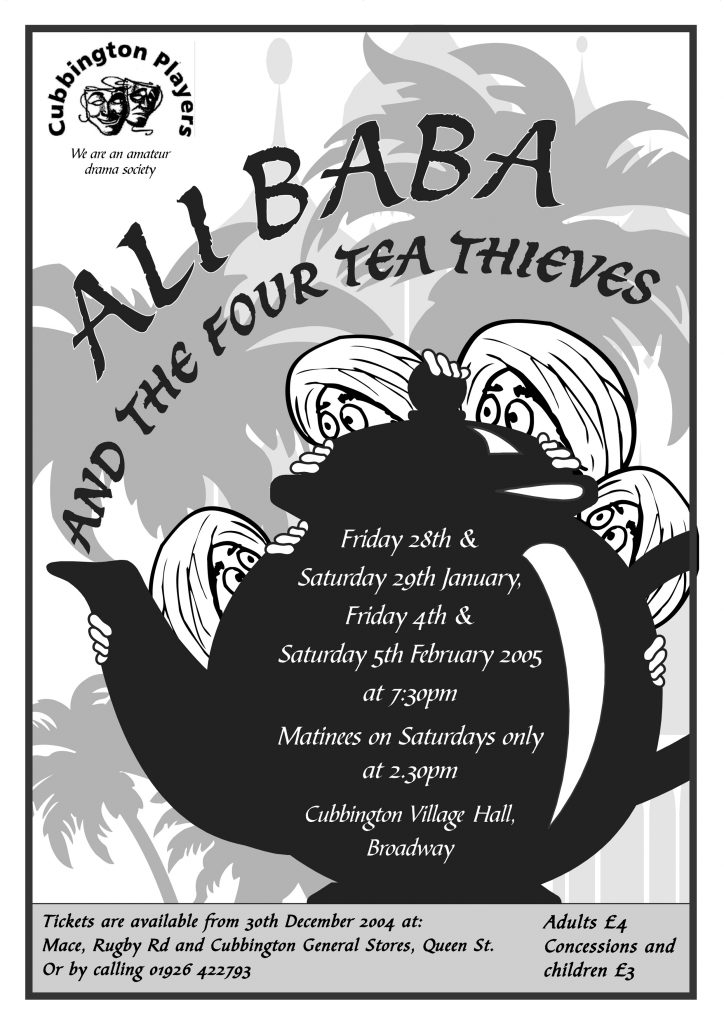 A Pantomime by Cath and Jim Staton
January 2005
The true story of Ali Baba: how he defeated the evil magician Harri Pottati, rescued the beautiful Sugaree Sweet, made friends with a monkey and had a brew in 'Ava Bru.
Cast
Mustafa Pint Pete Pawson
Earl Grey Ruth Bishop
Typhoo Brenda West
Lapsangsingsong Victoria Perris
Lipton Anne Ward
Ali Baba Kevin Joyner
Dame Wobblebotham Paul West
Custard Pie Chris Ward
Sugaree Sweet Becky Hunt
King Sizebed Huw Williams
Judge John Staton
Troll John Staton
George John Staton
Harri Pottati Phil Kohler
Chunky Sarah Rush
Mustapha's Wife Hazel Blenkinsop
Grand Dame Barry West
Crew
Producer Cath Staton
Co-producer Hazel Galvin
Stage Manager Hazel Blenkinsop
Set Design Production Team
Set Construction Jim Melville, Chris & Christine Sutton, Ian Squire, Mike Crawshaw, Teresa Coles McGee
Sound Chris Pearson
Lighting Ian Squire and Gordon Stokes
Props Christine Sutton
Prompt Hazel Galvin
Mrs Piano Lady Jenny Smith
Front of House Hazel Galvin & co.
Tickets/Publicity Barry West
Poster & Programme Design Teresa Coles McGee
Costumes Brenda West and Anne Ward
Review
The Leamington Courier:
Ali Baba is a Special Brew
Squeezing Ali Baba and his 40 thieves onto the stage at Cubbington village hall was going to be a tall order by any stretch of the imagination. So instead we were treated to four tea thieves and their escapades in the land of 'Ava Bru, as part of the Cubbington Players' annual pantomime performance.
The village hall was pas for Saturday's matinee with extra chairs being dragged out to accommodate the numbers of families wanting to join the fun.
Pete Pawson got the afternoon's entertainment off to a start in the role of Mustafa Pint and his rendition of Peter Andre's Insania. A favourite with the audience, he acted as the show's storyteller and his comic relationship with his nagging wife and his resulting injuries created many a laugh among the crowd.
The traditional boos and hisses wer instigated by the evil wizard, Harry Pottati, played by Phil Kohler with great effect. And his bumbling tea thieves – Earl Grey, Typhoo, Lapsangsingsong and Lipton were well received by the audience. And no pantomime would be complete without its dame. Dame Wobblebotham, Ali Baba's mum, played by Paul West, provided some great comedy moments.
The performance was slightly rough around the edges at times, but no-one seemed to care. If anything it endeared the actors to the audience even more, community theatre at its best.
7/10