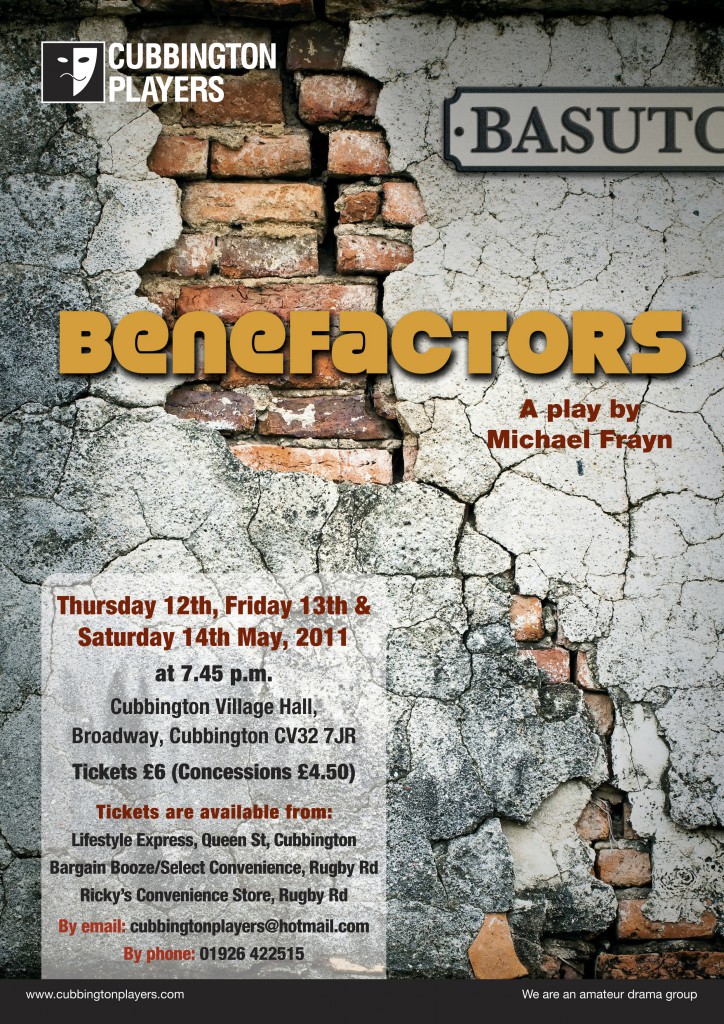 by Michael Frayn
May 2011
Benefactors is a play by Michael Frayn, who is perhaps best known for his hilarious farce Noises Off. However, Frayn's output includes numerous highly acclaimed plays and novels covering an enormous range of styles and genres.
Benefactors is an intimate study of two couples, David and Jane Kitzinger and Colin and Sheila Molyneux. At the start of the play David, an architect, has a wonderful opportunity to demolish and redevelop a run-down area of South London, the Basuto Road site. The characters are all trying in their different ways to do their bit to help others – they are all "benefactors".
And yet demolition is the theme. The action follows the gradual demolition of David's dream, along with the demolition of relationships between the four characters.
Cast
David Dan Hawkins
Jane Sam Kneeshaw
Colin Mark Frampton
Sheila Teresa Coles McGee
Crew
Producer Tony O'Hagan
Assistant Producer Janice Wingrove
Stage Manager Jim Melville
Set Design Chris Sutton & Jim Melville
Lighting Ian Squire
Sound Chris Pearson
Set Construction Jim Melville, Chris Sutton, Christine Sutton, Ian Squire, Joseph Hughes, Andrew Kneeshaw, Roy Sager & Peter Staton
Props Janice Wingrove
Costumes Ann Johnson
Prompt Chris Squire
Front of House Manager Hazel Blenkinsop
Front of House/Kitchen/Bar Group members and friends of Cubbington Players
Tickets/Publicity Sam Kneeshaw & Barry West
Poster & Programme Design Teresa Coles McGee
Gallery
Review
From the Leamington Courier:
Good performances in Cubbington Players' play
Benefactors is a fascinating piece set in the early 70s, beautifully placed by the use of music, about two couples whose lives are intertwined by their University days.
They have unfortunately never noticed they are like chalk and cheese. David (Dan Hawkins), an architect, is working on a development project in SE London – Basuto Road, Jane (Sam Kneeshaw), his wife, supports his work with admin and market research. Colin (Mark Frampton) is a classical scholar working as a journalist. His wife Sheila (Teresa Coles McGee) is a bit hippy dippy, though before the children was a state registered nurse. Jane suggests that Sheila start working for David which sets off quite a chain of events.
Sheila leaves Colin who sets up a squat in Basuto Road to undermine David's plans.
Colin's Machiavellian tendencies ensure Jane gets work for a charity that refurbishes property.
The theme of demolition underlies the play as the couple's relationships within their marriages and as friends undergo enormous challenges. Finally Jane is the breadwinner as David's career flounders as the Basuto Road project is halted.
The performances are good with a special mention for Mark Frampton as Colin.
So why Benefactors?
Each in their way attempts to do good to someone else.
Colin is the 'bad egg' who is driven by negativity.
There is an interplay between dark and light, creativity and demolition, good and evil.
Sheila's character is the most interesting – Colin has undermined her natural wisdom in showing the others their true selves which returns as she frees herself from his influence.