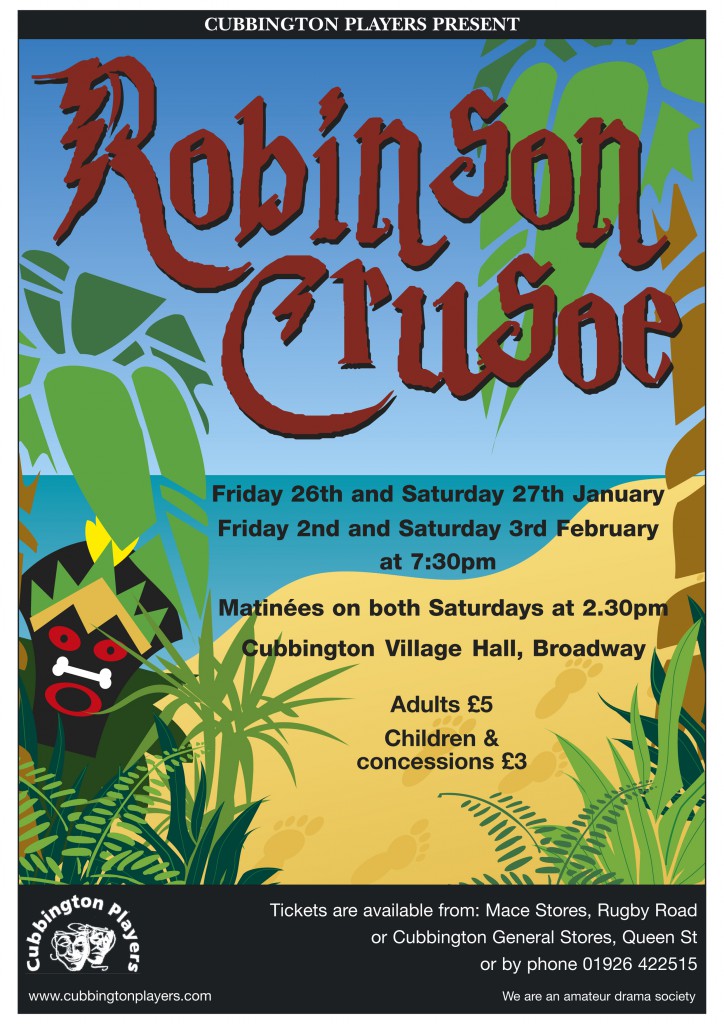 A Pantomime
January 2007
After his ship is wrecked, our hero Robinson Crusoe awakes to find himself on a desert island held in the grip of fear by the evil witchdoctor, Doomsday. Can the combined powers of fairies Good and Nuff help Crusoe rid the islanders of Doomsday's tyranny? Or will the military mayhem that is Major Jump and Corporal Punishment save the day? What about the laundry owner Dame Widow Washday and her beautiful daughter Friday? And who is the mysterious Captain Cutthroat?
All will be revealed…
Cast
Robinson Crusoe Caroline Blackburn
Doomsday David Burch
Fairy Good Cath Staton
Fairy Nuff Hayley Cooper
Major Jump Ruth Hawkins
Corporal Punishment Peter Pawson
Atishoo Ken Beer
Friday Becky Hunt
Saturday/Sea Sprite Grace Bridgewater
Sunday/Sea Sprite Alex Hawkins
Widow Washday Barry West
Rainyday Brenda West
Mildred Teresa Coles McGee
Captain Cutthroat John Staton
Crew
Producers Paul West & Ruth Bishop
Stage Manager Hazel Blenkinsop
Mrs Piano Lady Jenny Smith
Set Design Teresa Coles McGee
Lighting Jim & Ann Johnson
Sound Chris Pearson
Props Christine Sutton
Prompt Group Members
Set Construction Hazel Blenkinsop, Teresa Coles McGee, Mike Crawshaw, Joseph Hughes, Jim Johnson, Sam & Andrew Kneeshaw, Jim Melville, Christine Sutton, Christopher Sutton, Ian Squire, Barry West, Paul West & other group members
Front of House & Kitchen Group Members & Friends
Publicity/Tickets Barry West
Poster and Programme Design Teresa Coles McGee
Costumes Ann Johnson & Brenda West
Review
Fun for all the family, by Sara Fenton, Leamington Courier
This was thoroughly enjoyable and had something in it for all ages.
Barry West was hilarious as Widow Washday, with wife Brenda playing one of his sidekicks Rainyday – complete with a kagool and umbrella hat.
Children laughed out loud at the slapstick humour and the audience got to its feet for a round of the song "one finger one thumb" complete with actions. Corporal Punishment and Major Jump drilled all with their different training regimes and Alex Hawkins was great as the Washays' worker Sunday.
Atishoo, meanwhile, tickled the audience by uttering his catchphrase "no, that's my name" and Fairy Good brought a sprinkle of magic to the evening with help from her trainee Fairy Nuff, who only had one wing.
Robinson Crusoe was entertaining in his quest to conquer Doomsday, who was unbelievably nasty as the baddie of the panto.
Plenty of family fun then, but the highlight for me was Mildred, a character who came on throughout the show as characters from other pantomimes in an attempt to gatecrash the pantomime and take on a lead role. An entertaining night, a traditional village panto and there was even free tea and coffee in the interval!
7/10
Misc
A video and gallery can be viewed here