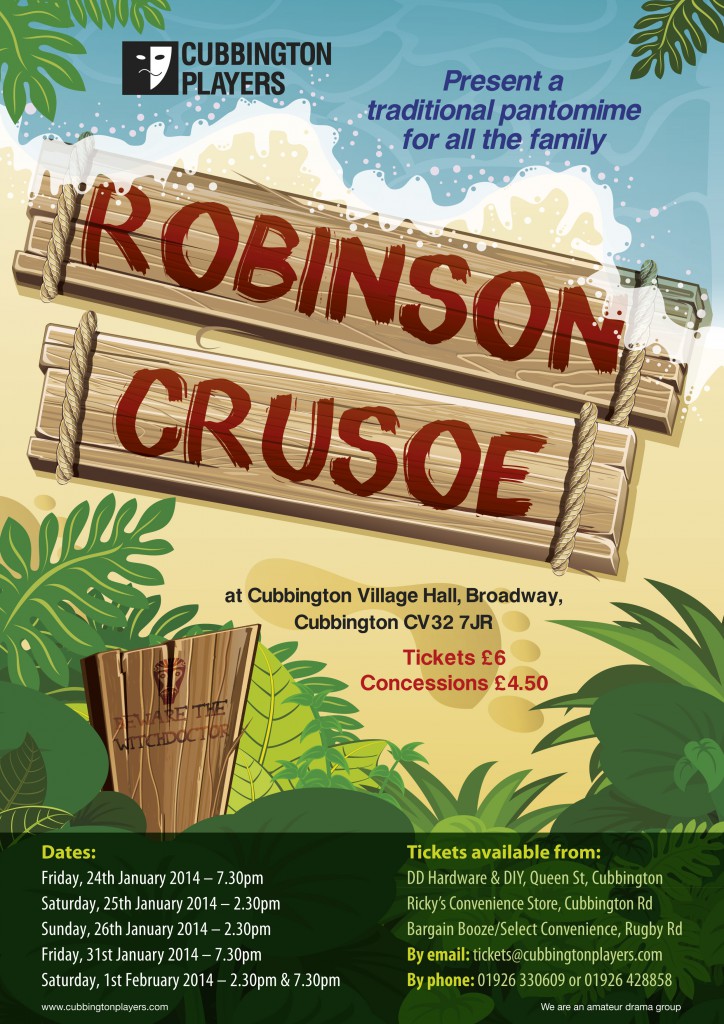 January 2014
Our hero has been washed up on a South Sea Island after a storm conjured up by the wicked Doomsday has wrecked his ship. But he is not alone! The island has a motley crew of inhabitants. Some are good, like the two Fairies. Some are rather odd, like Widow Washday and her lugubrious helper Rainyday. Others are decidedly nasty, like Doomsday, his bloodthirsty companion Captain Cutthroat and his sidekick Swashbuckle.
Oh yes, and Doomsday has a beautiful but feisty niece called Friday, who doesn't take very kindly to smelly sailors!
Doomsday wants to get ultimate power to rule the world. Will he succeed? Perhaps Crusoe can stop him. Or perhaps the two rather incompetent soldiers, Major Jump and Corporal Punishment might thwart him – or perhaps not. All will be revealed in the next sidesplitting 2 hours!
Cast
Robinson Crusoe Sam Kneeshaw
Friday Rebecca Warner
Fairy Good Kathy Deeth
Fairy Nuff Hannah Fordham
Doomsday James Suther
Major Jump Tim Hurrell
Corporal Punishment Ruth Hawkins
Captain Cutthroat John Staton
Swashbuckle Lewis Papworth
Widow Washday Janice Wingrove
Rainyday Alex Hawkins/Ted Spivey
Saturday Bronwyn Hawkins
Sunday Kate West
Sea Sprites Bronwyn Hawkins, Kate West
Mildred Chris Squire
Crew
Stage Manager Chris Pearson
Set Design Jim Melville
Lighting Ian Squire, Ashley Hogg
Sound Alex Morrison
Costumes Nicola Barker, Janet Cooper and Brenda West
Props Jill Bingham
Prompt Brenda West
Set Construction Jim Melville, Joseph Hughes, Christopher Sutton, Christine Sutton, Roy Sager, Jill Bingham and Ian Squire
Poster and Programme Design Teresa Coles McGee
Publicity and Tickets Barry West, Chris Pearson, Christine Sutton and Sam Kneeshaw
Front of House Managers Ann and Tony O'Hagan