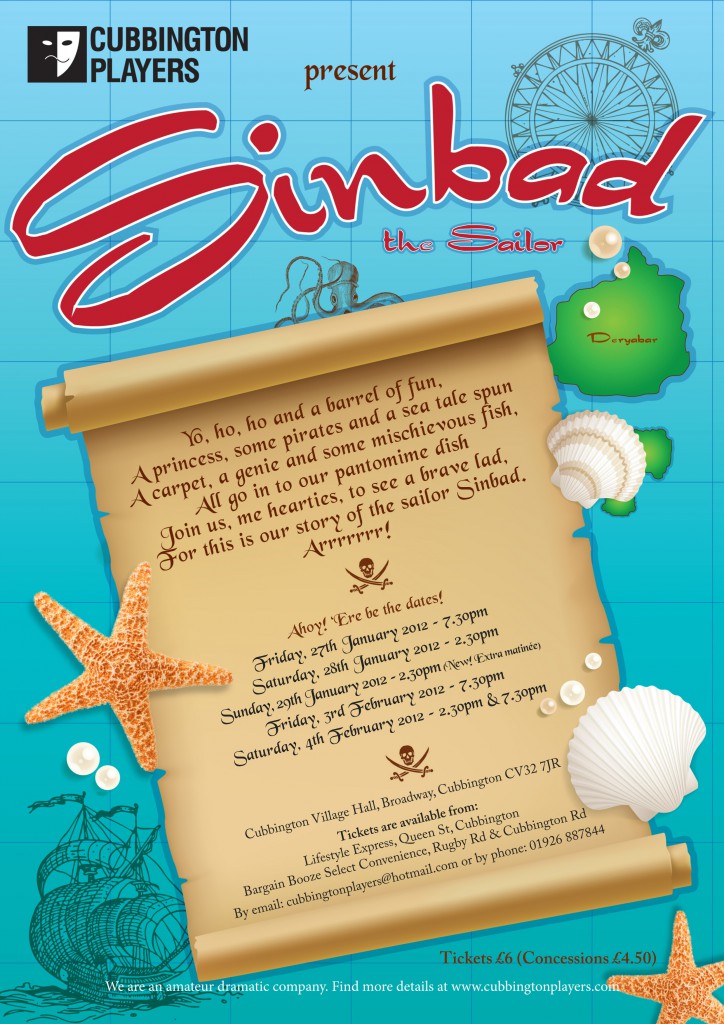 A Pantomime by Cath Staton
January 2012
Sinbad has fallen on hard times and stolen bread from Dame Fatima Trollope, the local baker. In order to avoid his punishment he must take to the seas with a motley crew and find the Sultan of Azkabar's missing daughter, Princess Yasmin, who disappeared many years ago. Can he be the "sailor extraordinaire" everyone believes him to be and thwart the wicked Zanzibar, who wants the Princess for himself? Can he fight off marauding pirates and survive walking the plank? And can he bring the Princess safely home?
Cast
Sinbad Paul West
Dame Fatima Trollope John Staton
Zanzibar, Grand Vizir of Azkabar Peter Staton
Mustapha Zickbag Sam Kneeshaw
Umpah/Merrillee Janet Denning
Abu James Suther
Sultan Peppa Joseph Hughes
Dread Pirate Polly Sophie Wynne
Captain Walker de Planke Roy Sager
Coraline Janice Wingrove
Ann Kerr/Goldie Ella West
Bilj Ratt/Shrimp Dan McKeown
Pirate Pete/Sprat Alex Hawkins
Pearl Kate West
Tiddler Bronwyn Hawkins
Precious Andrew Kneeshaw
Gallery
Crew
Producer Cath Staton
Assistant Producer Ruth Staton
Stage Manager Hazel Blenkinsop
Set Design Jim Melville, Christopher Sutton
Lighting Ian Squire & Jim Johnson
Sound Chris Pearson
Set Construction Group members
Props Christine Sutton
Costumes Ann Johnson & Brenda West
Prompt Teresa Coles McGee
Mrs Piano Lady Jenny Smith
Front of House Chris Squire, members and friends
Tickets/Publicity James Suther/Sam Kneeshaw
Poster & Programme Design Teresa Coles McGee
Review
From the Leamington Courier:
Panto is funny and inventive
This was a first for me – I've never seen Sinbad as pantomime and it was really enjoyable.
A down-on-his-luck and hungry Sinbad (Paul West) has been sentenced to death for pinching Dame Fatima Trollope's buns.
He can choose to be boiled in oil or listen to Jedwood, but instead he takes the Sultan Peppa's challenge to search the seven seas for kidnapped daughter Princess Yasmin, taking with him the Dame and sailors Umpah Merrilee and Mustapha Zickbag. There's also brilliant Baddie Zanzibar and REALLY big guy Abu.
What made the storytelling so enjoyable were the wonderfully inventive touches. There was the traditional 'oh no he isn't' malarkey but an example was the scene where the actors charging back and forth across the stage make us feel as though it's a storm at sea. My favourite bit was where the pirates have taken most of the crew and only Umpah and Mustapha are left. Umpah sings a song about facing trouble alone, while Mustapha tries to remind him he's there too. Gradually the rest of the cast, the prompt, the director – everybody involved – is on the stage singing along – very funny!
Star of the show was Pirate Polly (Sophie Wynne), whose presence on stage was always captivating.