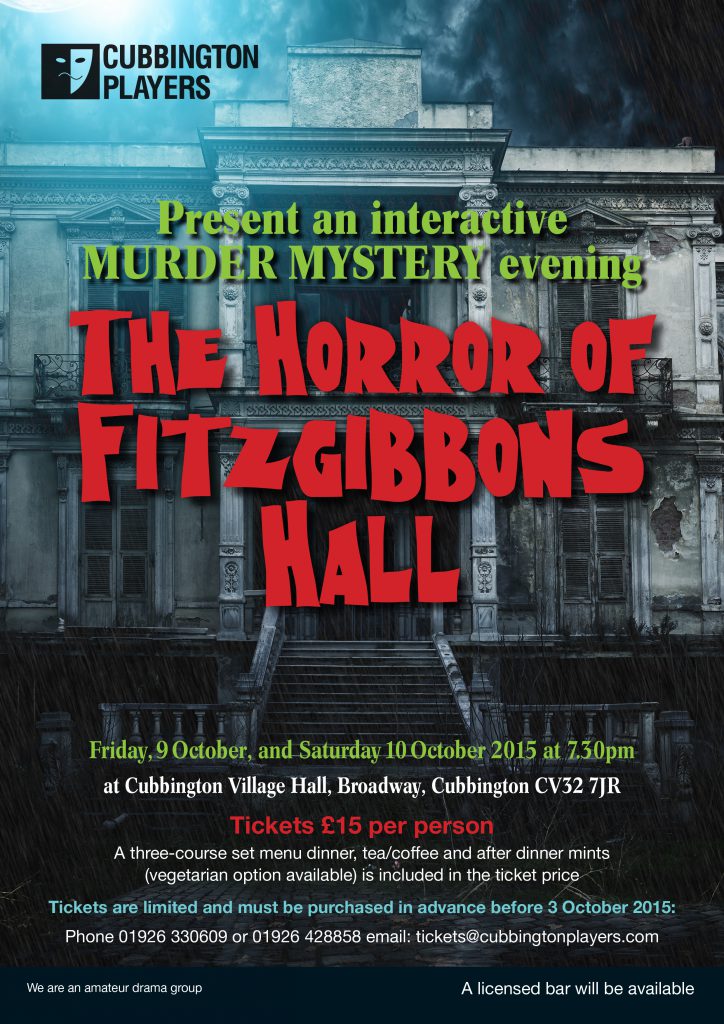 October 2015
The year is 1947. During the Second World War Lord and Lady Fitzgibbons lost their one and only son, Rupert, when he went missing behind enemy lines whilst on a secret mission for the SOE (Special Operations Executive).
Driven almost mad with a combination of grief and not knowing whether Rupert truly is dead, Lady Fitzgibbons has taken the extreme step of inviting friends and family to a séance, at which she hopes to find out once and for all whether Rupert is alive.
As the evening unfolds, you'll need your wits about you to work out who may be telling lies, and who may be not all they seem.
You'll get chance to ask questions but listen carefully to the answers and work out whether it's the truth or something more sinister – then decide for yourself who may be capable of carrying out the most deadliest of crimes.
Thank you for joining us at Fitzgibbons Hall. Enjoy the evening – and good luck!
Cast
The Inspector Joseph Hughes
Lady Philomena Fitzgibbons Kathy Deeth
Lord Aloysius Fitzgibbons Roy Sager
Reverend Trevor Knightley Simon Keatley
Colonel Bernard Brown Charles l'Anson
Madame Crystalle de Balle Vicki Steele
Crew
Script kindly provided by A Stab In The Dark Murder Mysteries Ltd. Production Co-ordinator Brenda West
Backstage Members of Cubbington Players
Front of House Members of Cubbington Players
Bar and Waiting Staff Members of Cubbington Players
Publicity and Tickets Chris Pearson and Christine Sutton
Catering The Sydni Centre, Leamington
Poster Design Teresa Coles McGee