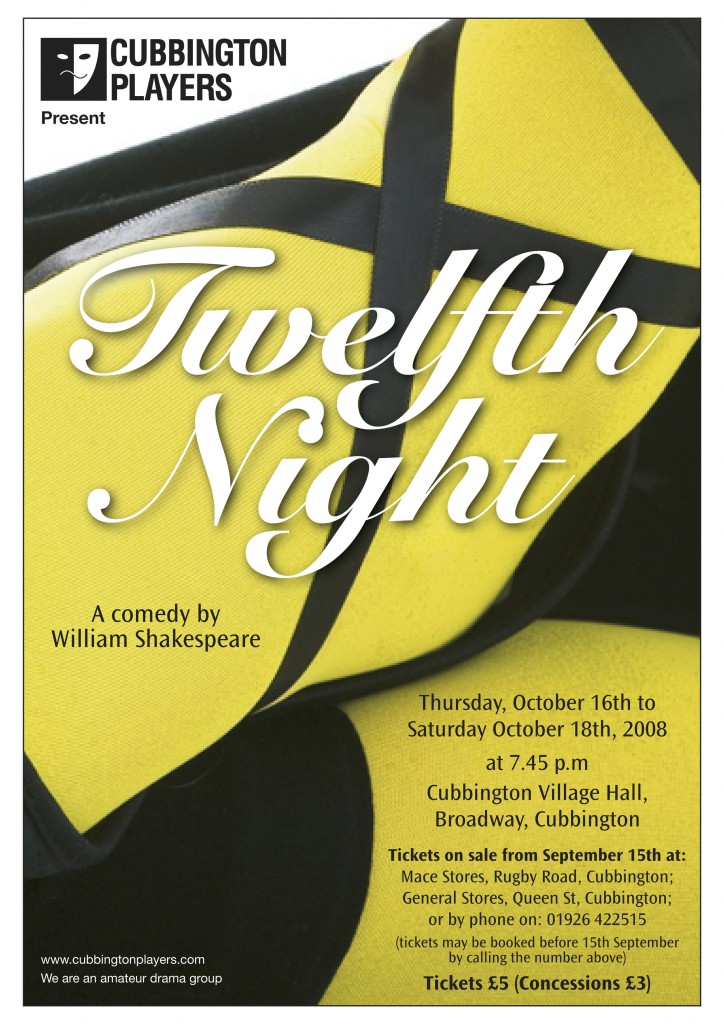 By William Shakespeare
October 2008
One of Shakespeare's best loved comedies, Twelfth Night treats those most human of appetites and foibles – food & drink, love, sex and revenge – in a bewitching brew of cross-dressing, mistaken identities, cunning tricks and wistful longings, all put before us in richly comic dialogue and magnificently resonant verse.
Cast
Viola (aka Cesario) Becky Hunt
Sea Captain Peter Pawson
Orsino Phil Kohler
Curio Alex Hawkins
Valentine James Suther
Sir Toby Belch Joseph Hughes
Maria Teresa Coles McGee
Sir Andrew Aguecheek Paul West
Feste Tim Hurrell
Olivia Hazel Blenkinsop
Malvolio Dan Hawkins
Antonio Michael Crawshaw
Sebastian Jamie Wilson
Fabian Ruth Bishop
Priest Peter Pawson
1st Officer James Suther
2nd Officer Peter Pawson
Flute Player Hilary Morris
Crew
Producers Chris Squire & Barry West
Scene Changes Janet Dennings & Jim Johnson
Stage Manager Christine Sutton
Set Designer Christopher Sutton
Lighting Ian Squire
Sound Chris Pearson, Ann Johnson
Set Construction Jim Melville, Christine Sutton, Christopher Sutton, Ian Squire
Props Jim Melville
Costumes Ann Johnson, Brenda West & Sam Kneeshaw
Prompt Cath Staton
Front of House Sam Kneeshaw and members and friends
Tickets/Publicity Barry West
Poster & Programme Design Teresa Coles McGee
Review
From the Leamington Courier:
'Uplifting romantic comedy'
Farce and confusion ensue in Shakespeare's Twelfth Night, but the Cubbington Players managed to bring control to the chaos. For a first night performance they provided some hearty, brave and at times very engaging acting which offered an ample dose of escapism to those in a crammed village hall.
Lines were forgotten and early nerves needed to be overcome but the amateur performers still captured the essence of one of the playwright's most popular comedies. And that is no small task considering the nature of the script which is driven as much by colourful characters as humourous shenanigans. He who profits from the mix of mistaken identities, cross dressing,drunken tomfoolery, cunning trickery and hyperactive bravado is Jester Fester, played by Tim Hurrell. Hurrell barely put a foot wrong in the role, as he conived in a multicoloured waist coat and, though obviously out of his comfort zone, performed his singing parts quite well.
Arrogant steward Malvolio falls fouls of Feste and his friends' plan to make a fool of him and Dan Hawkins was equally apt in portraying both the self importance and wretchedness of the character. Like many of Shakespeare's romantic comedies the ending is mostly happy, which was how I felt after watching Cubbington Players for the first time.
Verdict: a good effort
Misc
A review and gallery can be viewed here