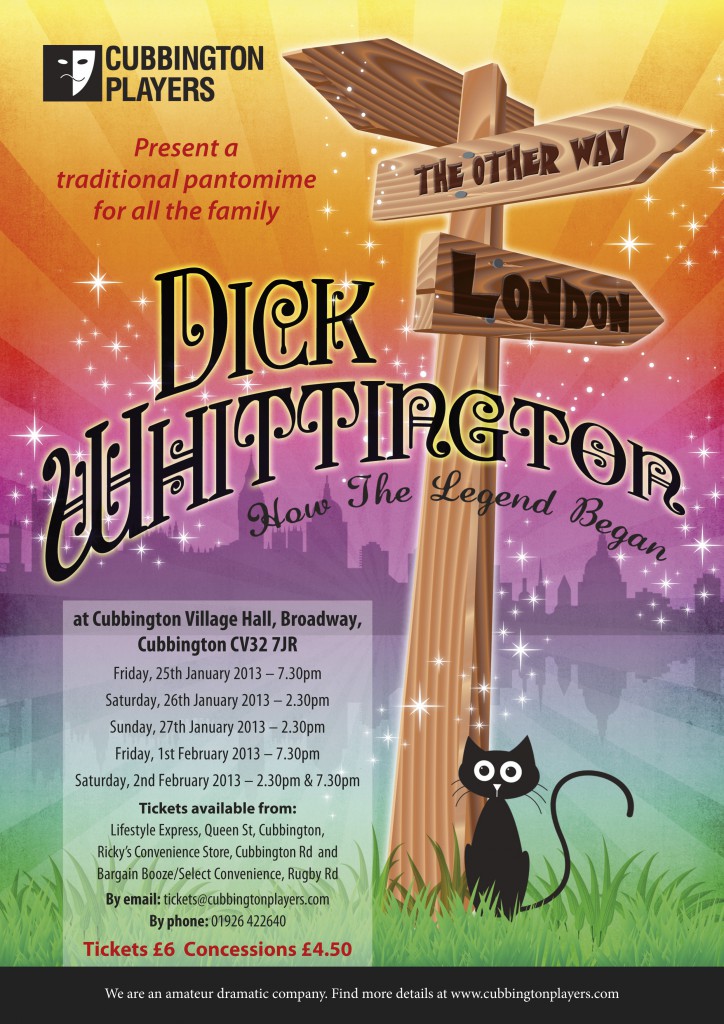 January 2013
Dr. Richard Whittington and his faithful assistant Jess embark upon a journey that involves them travelling through a time portal – and one of them doesn't arrive exactly how they should! The Doctor – (his friends call him Dick) – heads to London where he encounters the evil Mortimer Moneybags, the lovely Alice and the completely batty Victoria Sponge and her sidekick Squeegee.
However, mysterious Madame Zenobia seems to have plans for Dick, evil Moneybags has plans for Alice and Victoria Sponge has plans for Cliff (Jess on the other hand only has plans for a good wash and possibly a quick nap in the sun). But whose plan will come to fruition and what will happen along the way?
Cast
Dr Richard Whittington Jim Suther
Jess Ruth Hawkins
Alderman Fitzwarren Roy Sager
Mortimer Moneybags Joseph Hughes
Madame Zenobia Janice Wingrove
Alice Fitzwarren Hannah Fordham
Victoria Sponge Barry West
Squeegee Alex Hawkins/Ted Spivey
Cringio Janet Cooper
Empress and Mollie Kathy Deeth
Soy the Sorceror/Pied Piper Tony O'Hagan
Tina Ella West
Rats Bronwyn Hawkins, Kate West,Alex Hawkins/Ted Spivey
Tout/Vendor Alex Hawkins/Ted Spivey
Crew
Producers Brenda West & Jim Suther
Mrs Piano Lady Jenny Smith
Stage Manager Chris Squire
Set Design Teresa Coles McGee
Lighting Ian Squire
Sound Chris Pearson
Set Construction Jim Melville, Chris Sutton, Christine Sutton, Ian Squire, Joseph Hughes, Andrew Kneeshaw, Roy Sager, Hazel Blenkinsop & other group members
Props Jill Bingham
Costumes Nicola Brooks, Jo Coles West
Prompt Cath Staton
Front of House CP members and friends
Tickets/Publicity Sam Kneeshaw, Chris Pearson, Tim Hurrell
Poster & Programme Design Teresa Coles McGee
Publicity Photos Huw Williams
Gallery
Review
From the Leamington Courier:
Gleeful mayhem and sparkling performances by Cubbington Players
THE Cubbington Players' winter pantomime is a rollicking journey of fun sprinkled with punning references to Dr Who, Star Wars, the Rocky Horror Show and Boris Johnson, along with a host of old favourites.
A spirit of gleeful mayhem filled the hall from start to finish. Dick Whittington (Jim Suther), in Dr Who scarf, travels back in time to save the world from the machinations of the evil Mortimer Moneybags, played with slimy relish by Joseph Hughes, who is blackmailing the good Alderman Fitzwarren (Roy Sager) and his lovely daughter Alice (Hannah Firdham). Scampering in and out of the plot is the magnificent Victoria Sponge (Barry West) the Alderman's demented housekeeper.
Barry's performance was straight out of the Frankie Howerd school of double entendre. Ruth Hawkins brought to Jess, Dick Whittington's cat, a lovely feline performance that was pitch purr-fect. Her Miaow Duet with Mollie (Kathy Deeth), the cockney sidekick of Mr Moneybags, was one of the highlights of the show.
But of all the stars in this good hearted romp, it was the children who stood out, including those in the audience. Bronwyn Hawkins, Kate West and Alex Hawkins delivered sparkling performances as the rats, and Ted Spivey delivered the goods as the punster Squeegee. Janet Cooper (Cringio), Ella West (Tina), Janice Wingrove (Madame Zenobia) and Tony O'Hagan (Soy the Sorcerer and the Pied Piper) completed a cast that held the local audience enthralled.
Never mind the plot holes, never mind the gaffes – the spirit of pantomime fun was alive in Cubbington today.